pastemagazine.com
Divided States of America
Paste Interviews Art World Provocateur and Curator Alison Gingeras
At a time when rife discrimination against the LGBT community was the norm
, The Center became a cornerstone. New York's LGBT Center, once a mere dream born in the wake of the 1969 Stonewall riots, spent the better half of the 1980s achieving the unthinkable. Launching cultural programs like "Second Tuesdays"—wherein prominent figures like Audre
Lorde
and Fran Lebowitz spoke to New York's LGBT community. New York City's first comprehensive AIDS bereavement program. YES, a program providing support to LGBT people who wanted to start families. Now in its newest and perhaps most forward-looking exhibition, this West Village mainstay, known simply as The Center, responds to renewed fears of division by boldly proclaiming the essentiality of identity politics.
A radical embrace of progressive values and inclusiveness, "Divided States of America" invites new blood into a historically symbolic brick and mortar, and frankly, an indispensable lifeline for LGBT community members. "Divided States of America" brings together judiciously curated works from over 30 artists. A direct response to this current moment in time, the selected works together form a chorus of opposition to the rancor that saturates today's national political arena. Paste spoke with the exhibition's lead curator and author of the soon-to-be-released The Avant-Garde Won't Give Up: Cobra and its Legacy, Alison Gingeras, to discuss the positive and unifying properties of art.
---
Paste: You're well known for your avant-garde approach to curating, and this peculiar backdrop of The Center, a nearly 40-year-old bastion within the LGBT community, is no exception. Why this show and why now?
Alison Gingeras:
Well, the day after the election actually I was meeting with The Center's directors regarding a public art project we're installing later this year at The Church of the Village just right across the street from The Center. There was just this palpable air of devastation and everyone was talking in doomsday scenarios, amidst which I found myself blurting out "We should do a show at The Center." Now, the last time The Center was used to display a very prominent work was the debut of Keith Haring's famed bathroom mural, which he famously painted just before his death from AIDS in 1990.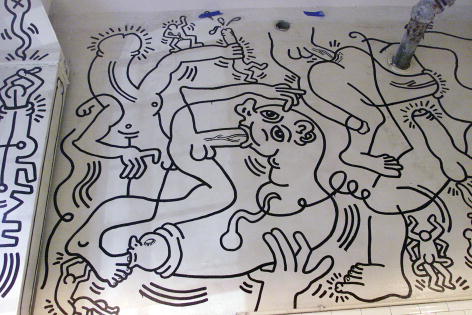 Although unfamiliar territory for the directors, they said okay. I first reached out to Stuart Comer, who's an old friend and eventually became a co-curator of the show, and together we compiled a list of artists. I ended up sending letters to 40 or so artists and almost immediately, I received responses from at least 20 of them saying "count me in." There was a real collective urgency and incredible generosity on the part of these artists, who offered up considerably high caliber works—works that you normally wouldn't find next to a community bulletin board within these very institutional hallway spaces where the show now hangs.
Paste: Now that the show has been up for a couple of weeks, what pieces in particular stick out to you as having garnered the greatest community response?
Gingeras: Every piece really does serve a purpose. In particular, I'm thinking of the piece that Donald Moffett contributed to us, which was a work that he made during the AIDS crisis when Bush— H.W. Bush—was president. I don't know if you recall that piece from the show but it's a light box that reads "Call the White House," it has a phone number between two lines of text, then underneath reads "Tell Bush we're not all dead yet."
Paste: Yes, I do remember that piece.
Gingeras:
That phone number still works actually—I mean if you want to try it, by all means. I think the reason why I felt it was just such an emblematic image for the show was because it really is the kind of piece where art and activism overlap completely. We've seen already in the last two weeks or so of the
Trump administration
that making phone calls and contacting your Senator can produce tangible political effects, even when we are faced with such a huge, hegemonic block of power.
A particularly rousing piece has been the image by fashion photographer Collier Schorr, which is taken from a campaign she was commissioned to shoot for Yves Saint Laurent—it shows these two really attractive women of color making out.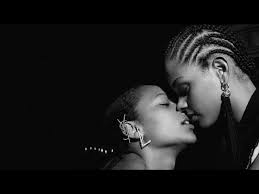 I saw so many young teenagers coming into the center and spending a lot of time just standing in front of that image. To me, watching them stunned by this very positive image of lesbian identity was very powerful. In the art world, we sometimes take for granted the psychological positivity of art in a context that is not necessarily a fine arts context.
Paste: So, what feelings, besides this positive feeling of identity, do you hope to elicit with "Divided States of America"?
Gingeras: I think it really speaks to a unified defiance when faced with divisive and oppressive, political force. This show, in a sense, is saying "We are divided because of the results of the election, but we are holding up our values, we are holding sacred the belief that our strength comes out of our diversity." And I aimed for that general feeling with the group of works hung on the top floor of The Center. They're these red, white and blue themed pieces that all work so well together as a subversive response to the prototypical symbols of American power. There's conceptual artist Glenn Ligon's image of the flag in a wash bucket, Jessica Craig Martin's photos from the Republican National Convention, portraying this kind of glitzy, super wealthy, red-blooded Americana, and Piotr Uklanski's tie-dyed American flag that's so poignantly titled "Not for Sale." So I think, yes, there's a lot of anger in the show, but you can feel that this anger stems from the fact that we've fought so hard and for so long. We're basically saying, "No, we're not going to go back 30 years, we're not going to let that happen to ourselves."
Paste: Have you noticed a big impact in the way the art is seen and absorbed as a result of the grassroots way in which it's being shown?
Gingeras:
You know it just so happened that on the show's opening night, The Center was hosting an AIDS awareness dance party for LGBT teenagers. The music was cranking and spirits were high, and it was honestly beautiful to observe how the populations meshed together. So many of the youth who are regular attendees of The Center, would come up and ask people from the show, "What's this about? Whose work is this? What does this mean?"
It was one of those magical moments that doesn't really happen in the kind of white cube context of most New York City galleries. There are countless galleries in this city, but rarely do you see artists standing together, not worrying about their egos, lending very valuable works in the spirit of community without concern for insurance values or professional art handlers, etc. It was incredibly heartening to see that they had clearly made this such a high priority, especially since we do live in such a hyper-professionalized niche of culture where artists are used to working in a certain way.
Paste: In a sense, it really humanizes the artists and their work. So, looking at your long list of projects for the next year, can we expect to see a continuation of the same subject matter?
Gingeras: I'm always interested in political subject matter and I have roots that go back to political activism, but now anything that I had scheduled before the election seems much more timely. For instance, I'm doing a radical retrospective of McDermott and McGough at the Dallas Contemporary in September. I've been working on the show for well over a year now and am constantly impressed by the artists' unabashed bravery and dynamism. They are still alive and are featured in "Divided States," and have been creative partners since 1980. They were really some of the early forerunners of queer identity politics very early in the 80s, even before the AIDS crisis struck. As a curator, I am consistently drawn to artists whose work resists the many harrowing calls for division, exclusion, and regression. At a time when there are rumors about a "religious freedom" executive order, which is basically a wolf in sheep's clothes meant to persecute gay rights, these dialogue-driving exhibitions are more vital than ever before.
---
Leah Rosenzweig is an Arts & Culture writer with a degree in Existential Philosophy. She writes for Art+Auction and Modern Painters magazines in New York and exercises her right to supercommute from sunny Philadelphia.