via JM on Facebook
ERIC JAFFE,
citylab.com
There's a lesson in this misery: transit agencies and cities forget about rider comfort at their own peril.
Russia was once capable of designing some seriously excellent transit shelters, as Christopher Herwig shows in his new book, Soviet Bus Stops. But you wouldn't know it to look at what officials just built in the village of Kortkeros.
The Russian news site
Meduza
points us (in cheeky English) to a
"
sparkling new bus stop"
across from the village's main library. The stop's "no-frills design" seems to be little more than two slabs of concrete, which made the ribbon-cutting ceremony "rather awkward, as there was no place to tie the ribbon." Behold, the happiest opening of the saddest bus stop: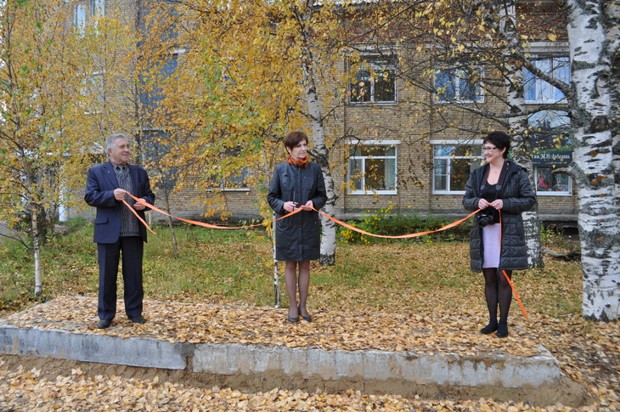 So there's your bus stop, Kortkeros transit riders. Hope you don't like to sit down or have any protection from the elements. Not pictured: all the shots of vodka you'll need to endure this frigid wait come winter. Locals are
already noting
the structure's lack of … being a structure.
Meduza
quotes one gentle soul: "People would be very grateful for a bus stop with a roof."
This
headline
that Google probably translates wrong still gets the situation just about right: "Absurd in Russian."
But don't feel so all alone, brave Kortkeros travelers whose extremities are going lifeless. Know that plenty of bus stops fall short of acceptable standards for a species that has reached the moon. Here's a collection of uninspired ones right here in the U.S.


Side of a highway in St. Louis
This shot of a St. Louis County bus stop conveniently located on the shoulder of a major highway took top prize in
Streetsblog
's
contest for the sorriest bus stop in the U.S. in early 2015. Good luck getting there on foot.

Next to a shopping mall in Flint
At least the St. Louis County stop above has a shoulder for a bus to pull off unimpeded, should any rider exercise the largely hypothetical right to board or disembark here. This stop in Flint, Michigan, below, is arguably sadder for its tantalizing proximity to a shopping center—with no sidewalk in sight to access it.


Side note to Kortkeros: this rider, and many before, have clearly chosen a patch of grass over a concrete slab for standing purposes.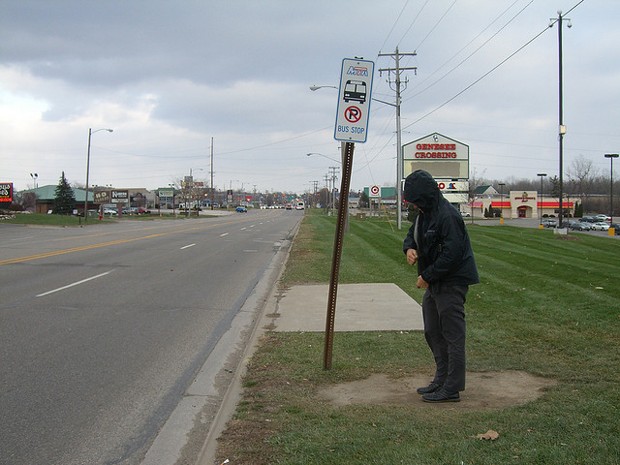 Slouching fence, hidden stop in San Diego
No
real-time arrival information
at this bus stop along a highway in San Diego—just a chain-link fence that may or may not slouch under the weight of a tired rider.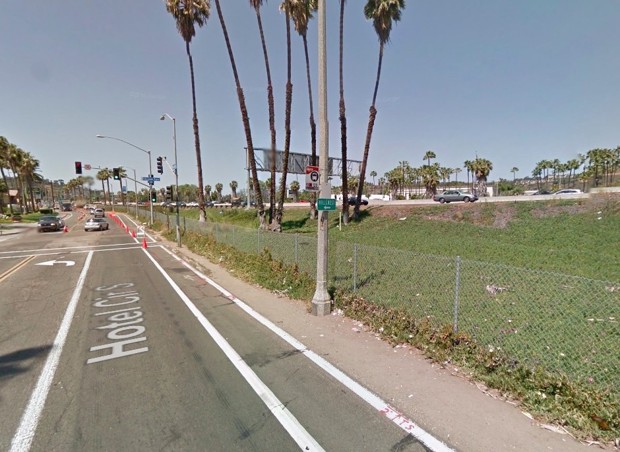 A cinder block in Woodbridge
A fence doesn't seem like such a bad option next to this cinder block resting below a bus stop in Woodbridge, Virginia. No schedule information anywhere around—or even the name of the transit system—though the side-by-side "Bus Stop" signs ensure accessibility for riders with patches over one eye. Locating the stop beside a busy gas station, with drivers coming and going as they please, just adds insult to injury.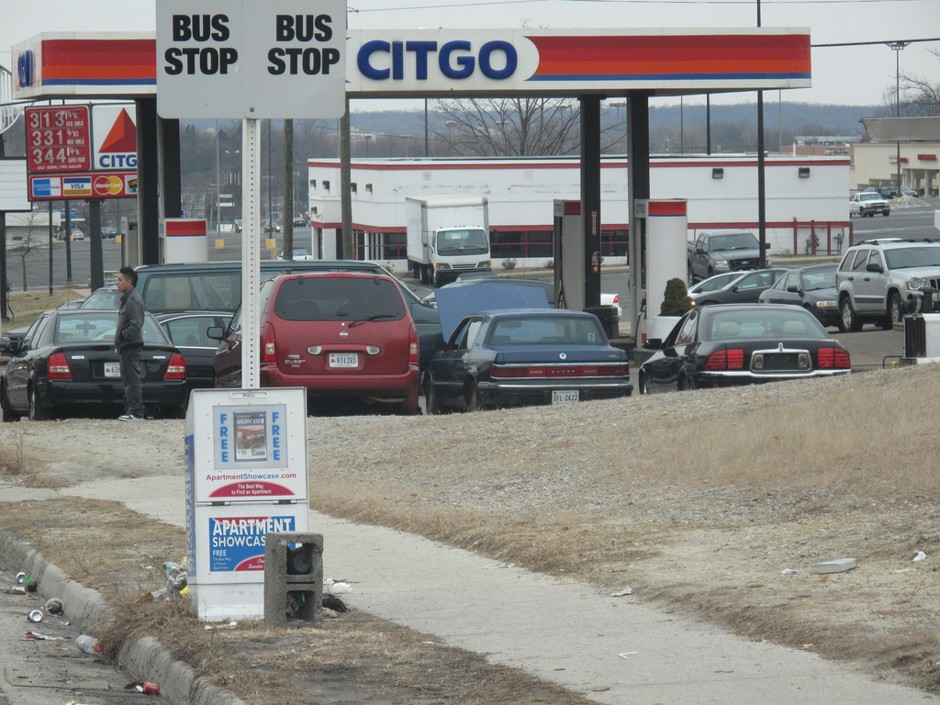 Plain old deck chair in Indy
When riders start bringing their own plastic deck chairs to your bus stop, as one seems to have done here in Indianapolis, it might be time to invest a little more money in customer comfort.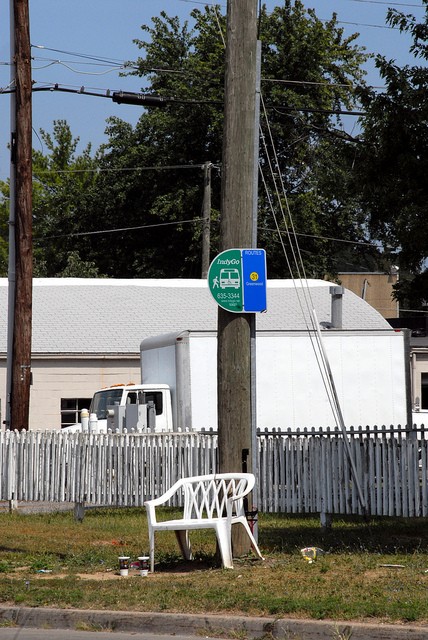 The deep woods of Washington, D.C.
This camouflaged bus stop alongside a parkway in Washington, D.C., makes you wonder if Metro can see its riders for the trees. The always-entertaining transit blog
Unsuck Metro D.C.
, which
posted the shot
, put it best: "Where are people supposed to wait? In the overgrown ditch?"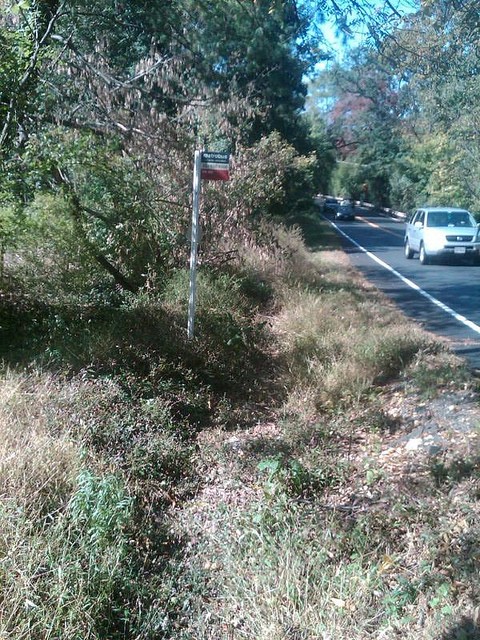 Your pick in Portland: pipe or picket fence
This corner stop in Aloha, Oregon, just west of Portland, was tapped as one of the metro area's worst bus stops by readers of
The Oregonian
. If the picket fence isn't comfortable enough to perch on, you can always crawl into the pipe.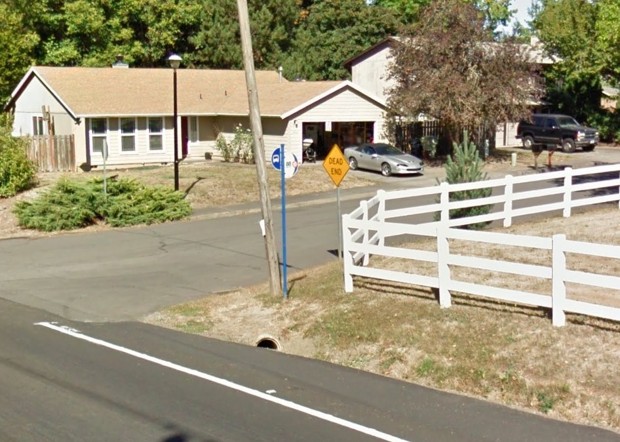 There's a legitimate lesson beneath the minimalist misery of these bus stops: cities forget to design for real people at their own peril. It's no coincidence that, with one lonely exception, nobody is waiting in any of these pictures. Funding is always a problem, of course, but not every bus stop has to be a
world-class
BRT station. A simple
bus shelter
, a
few trees
, and reasonable signage (if not
arrival info
) should qualify as the bare basics. The people would be very grateful.